Brand Ecommerce Store
Brand Ecommerce Store
When we got the call from UCLA, they asked us to increase their brand presence online for branded UCLA merchandise. Students, alumni, and UCLA fans worldwide were being under served and revenue goals were not being met.
How Did We Do?
+44.8%

Increase in Online Sales (all sources)

+64%

Increase in Ecommerce Conversion Rate

+351%

Increase in Adwords Driven Sales

+279%

Adwords ROI

+354%

Retargeting ROI
A/B testing (we like the convert.com platform) of key pages allowed us to increase the UCLA Store ecommerce conversion rate from 4.01% to 6.6%.

In one A/B test, we improved their lead capture form conversion rate by +375%! Not too shabby.

The graph below shows how we dramatically increase Adwords revenue YOY (2011-2013) for the months of September – UCLA's peak season for sales. The year prior to us taking over Adwords management (2011) saw $8,638.90 in revenue for the month of September. In August of 2012 we completely rebuilt and reconceived all campaigns and creatives (green arrow marks start of marketing). Revenue for Sep 2012 was $44,092.00. Sept 2013 saw a continued increase with $56,525.21 in revenue.*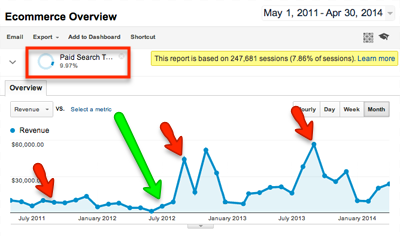 *These figures do not include revenue from Retargeting Ads.
How We Did It!
In order to target UCLA students, alumni, and fans nationwide, we created a highly segmented Adwords campaign, targeting Los Angeles and USA, with campaigns/ad groups for every product category in the UCLA Store.
Next step was to set up retargeting campaigns for all categories, including an incentivised cart abandoner campaign.
Throughout the process we ran A/B tests on key site pages including cart, checkout, category, product, and home pages. Some tests yielded improvements in ecommerce conversion rate as high as +30.5%, gradually increasing their year-on-year ecommerce conversion rate from 4.01% to 6.6% – a +64% bump!
Since we were first engaged, we've also produced a TV commercial and run event-based Facebook campaigns in addition to our ongoing lead gen and CRO work.
Our Playground
Los Angeles and USA. Segmentation and geo-targeting of local and nationwide audiences has been key to running successful campaigns.
In Our Toolbox:
Adwords was our primary lead channel. Multiple touches and incentivised offers through retargeting ads lowered CPA across all channels. A/B testing allowed us to intelligently upgrade key pages and template designs.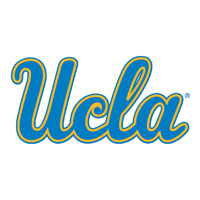 ---
Shhh!
Confidentiality agreements preclude UCLA staff from endorsing companies or providing testimonials. But Take our word for it – they're not complaining!
Special Projects
Fall 2013 UCLA Store TV commercial ran on the PAC 12 Network during games.
Remarketing
We designed retargeting campaigns that produced a staggering +354% ROI.