Fitness Program DVD
Fitness Program DVD
One of the nation's hottest gym-based fitness programs wanted to begin a direct marketing campaign for an at-home version of their product. To be successful, they needed extend brand awareness to a much broader market while dramatically lowering their initial CPA.
How Did We Do?
+1081%

Increase in Conversion Rate

+241%

Increase in CTR

91%

Lower Cost Per Conversion
A/B testing on the convert.com platform has been key in guiding our landing page and shopping cart designs. Here's a test that resulted in a +26.95% increase in conversions.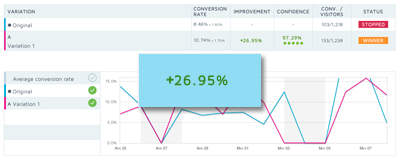 How We Did It!
We knew that Facebook ads were the best way to start for this client. Facebook's unmatched demographic and psychographic targeting capabilities (rolled out since early 2013) gave us the tools we needed to reach new audiences that closely matched our target personas.
We built new landing pages for Facebook ads and retargeting, then immediately began A/B testing of these pages. In 3 months time we were able to increase the client's conversion rate by +1081%. Retargeting on Facebook and the display network gave us the multiple touches we needed to nurture and convert prospects.
Throughout the process, A/B testing guided our design and messaging ideas, giving us the raw data to either verify or reject our theories.
Our Playground
USA. DVD sales ship to US customers only.
In Our Toolbox:
Our primary lead source was Facebook ads. We closed the loop on prospects with retargeting and increased conversion rates through A/B testing on our custom landing pages.
---
Remarketing
When marketing a new product with no real brand awareness, multiple touches really help conversion rate. Our retargeting campaigns converted on average about 400% better.